DAILY RATES - To guarantee your campsite, a deposit equal to at least your first night will be charged to your credit card at the time you make your reservation.
WEEKLY AND MONTHLY RATES - To guarantee your campsite, weekly and monthly camping fees require a 1 day non refundable deposit at time of reservation. Additional charges will be due on arrival.
Once we have received your payment you will be sent a confirmation email. You can make your online reservations anytime, day or night, through the online form. Any reservations made after 10 pm will be processed the following morning. You'll receive a confirmation email from the campground once your reservation has been completed. Please check your junk or spam folder if you do not see the email.

PLEASE NOTE** Your reservation is not confirmed or guaranteed until you receive a confirmation email from us with a reservation number.
RESERVATIONS FOR SAME DAY ARRIVAL WILL NOT BE ACCEPTED THROUGH THE ONLINE FORM. WE CANNOT GUARANTEE AVAILABILITY. PLEASE CALL 807-887-3701
Need to Cancel?
If you need to cancel your reservation, please
click here
to fill out request before the deadlines listed below to receive your deposit refund, minus a $10 cancellation fee. Weekly and monthly deposits are non refundable and not eligible for cancellation refunds.
Early Departure - There are no refunds for early departures, we cannot control the weather or your change of plans. We have reserved your site for your use for the days you requested.
RV & Tent Sites: 48 hours cancellation notice is required. Notify us by 12 p.m. two days before your scheduled arrival.
Reservations made after these deadlines including weekly and monthly require non refundable deposits. Cancellations made after deadlines will result in forfeiture of all deposits.
Holidays and special events may have special deposit and/or cancellation requirements. Special conditions may apply during high-demand periods and special events. Please check with us for details.
Some visitors enjoy sharing the pleasures of camping with their dogs or cats. To ensure that all guests have a safe and enjoyable experience, Stillwater Park Campground has established some guidelines.
Good behavior is required. Dogs of any breed that are hostile or aggressive will be asked to leave the campground, along with their owners.

Bring the leash. Dogs must be kept on leashes no longer than 6 feet when outside their owners' vehicles. Do not leave a tethered dog unattended.

Remember manners. Constant barking bothers other campers. If your pet is too vocal, you'll need to find other accommodations.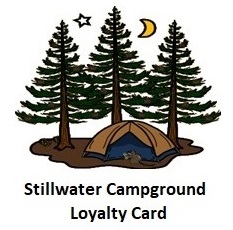 Stillwater Loyalty Program
Are you a repeat customer of Stillwater Park Campground? Do you want to save immediately on daily camping fees and in store purchases? - Join our new Loyalty Program today and start saving immediately.

$25 for a 2 year membership will give you 10% off daily camping fees and in store purchases. Card is non-transferable and cannot be combined with other discount memberships.
Charges applied at time of reservation!

Save money at Good Sam parks across Canada and the US!
Good Sam offers many opportunities to save money on camping, fuel, and even shopping! Plan your trip using their free trip planner.
Join today and save 10% on your next stay with us or any other Good Sam Park!

Use this link to sign up today!
Join the Good Sam RV Club Today
RESERVATION FORM IS OPTIMIZED FOR COMPUTER AND TABLET